Interview with Nancy Felix, Author & Expert Host Mom
Nancy Felix, Author and Expert Host Mom
We are very excited about our exclusive interview with Cornell graduate, Nancy Felix, and author of a new guide to hosting an au pair, Oh My, Au Pair, A Complete Guide to Hiring and Hosting an Au Pair.
Ms. Felix, a working host mom with fourteen au pairs under her belt, is a true expert on hosting a young woman from abroad. She has two boys now approaching their teenage years who can play rock, paper, scissors in 5 different languages! 
In addition to publishing her first book, Ms. Felix runs a 'how-to' parenting workshop called Parent Boot Camp for prospective host parents.  Ms. Felix is a graduate of Dartmouth College and she holds a master's degree from Cornell University.  To read more about the new author and her parenting workshop, visit her website, www.nancyfelix.com
---
Edina: Nancy, your new au pair guide is well researched and a delight to read! For parents who are not familiar with your book yet, can you tell us what it is about?
Nancy Felix: Oh My, Au Pair! A Complete Guide to Hiring and Hosting an Au Pair is a how-to guide for any family considering the au pair program.   It answers the most common questions parents have and helps them prevent making the typical mistakes. 
Edina: One of the more common question new host parents ask is "How will my children get along with the au pair?"  How do you answer that concern in your au pair guide?
Felix:  I write about how to promote bonding between your au pair and children, which is a common anxiety for new host parents.  For example, I recommend that in order to promote a great bond between your au pair and your children, you can choose a special treat that only your au pair can give the kids.  Whether it is a trip to a special playground or Reese's Pieces, your kids will then look forward to spending time with your au pair!
The most common question new parents ask is how to choose a great au pair.  Unfortunately, there is no easy answer to this question, which is why a family should not hire an au pair without reading this book!
Edina:  Tell us about your experience as a host mom that led you to write a book on au pairing!  Obviously, you are a successful host mom!  Did you feel the agencies are not preparing the host parents well enough?  Is there too little disclosure for a parent who has never hosted an au pair?
Felix:  Over nine years, I had thirteen au pairs.  In the community I lived in, I was the go-to person for anyone thinking about the au pair program.  I was always happy to share my stories – some good, some bad, and some just plain crazy!  So, I decided to write the book. 
The agencies are big business…it is their job to make matches and sell the program.  They definitely highlight the positive aspects of having an au pair but there is so much more a host parent needs to know.
Another challenge is that first time host parents can only handle so much information…. It's hard to think through all the situations that you might need to be prepared for.  This book walks someone through all aspects of having an au pair…from hiring through hosting. 
Edina:  I agree with you that the au pair agencies seem to be very business oriented in their quest to capture the au pair market and there is a lot of money to be made in this business if you provide quality au pairs and quality customer service.  Nancy, can you give one example of what aspect of au pairing that agencies tend to skip over but parents really have to take into consideration when finding an au pair for their family?
Felix: Yes, for example, the agencies do not help you to evaluate an au pair's English skills and many applicants use translating programs and scripts to make themselves appear more fluent than they really are.  In the interview process, you have to be creative to accurately assess their English skills. The easiest way to do this is to have a few off-beat questions – ask about the weather…who is her favorite sports team…what did she have for dinner the night before.  If she struggles with these questions, you might guess that she is reading from a script.  
Edina:  Ah, thank you Nancy for that great tip!  I really like that one! 
Let me ask you about host families choosing the wrong au pair for the wrong reasons. Many times parents pick the wrong au pair for their family – this often leads to a mismatch or worse, rematch.  Can you tell us what type of au pair fits in best for your family and why?  How did you go about making sure she was a good "fit" for you and your family?  What are some of the factors parents should keep in mind when choosing a "good fit" for their family?
Felix: Our best au pairs were those who were independent, outgoing, loved being part of our family, and serious about their future.  For example, our Japanese au pair who was studying fashion design in NY was great au pair because she was forced to manage her time well.  When she was "on duty" she took her responsibilities seriously and when she was "off duty" she was always busy.  She valued every minute of the experience and took advantage of everything that the program had to offer.  
Choosing an au pair is an art, not a science.  The bottom line is that I always went with my "gut."  Most of the times, that worked out…but sometimes it didn't.    
Before deciding to get an au pair, the most important thing that a family should do is ask themselves the tough question:  What would be the hardest part about being an au pair for my family?  Do you have a big slobbery dog? (I do!)  Does your spouse have a temper?  Do you live in a big city? Are you not the best housekeeper?  Will you insist that your au pair be home at a certain time every night?  Do you live in a remote location?  With the tough questions answered, the family can determine the style of au pair needed for their family: i.e., affectionate, tough, quiet, loud, neat, studious, a good driver, sporty, etc., etc.
Unfortunately, rematching is a possibility.  It doesn't happen often but when it does it can be a challenge.  "Oh My, Au Pair!" covers the warning signs, what you should do if you need to rematch, and how to emerge from the rematch successfully. 
Edina: Yes, I agree with you Nancy, rematching can be a very stressful time for the family and the au pair!  Can you share a few warning signs of a potential rematch situation and how to avoid them?
Felix: The first few days will be crucial in your assessment of the match…look for warning signs:  is she spending too much time on the computer? In her room? Eating? (or worse….drinking!)? Welcoming your au pair and keeping her busy during her first few days are important for that crucial first impression.  Providing positive feedback and constructive criticism (gently!) is also important during the first few weeks.  If your au pair is not responding to your feedback, this could also be a warning sign.
Edina: There seems to be a significant upswing in American's interest in au pairs!  More books, including your recent 2009 Oh My, Au Pair guide, are available and we see more blogs and interest online. Why do you think that is?
Felix: Host parents need to be educated consumers and up until recently, there have been few resources to get objective, unbiased advice. Too many of the resources out there have been developed by the agencies…. and most of the agencies are in the business to make money.  Having an au pair is an investment –financially and emotionally - in your family and the au pair.  Making this type of commitment is not something that one should take lightly.
Edina:  I agree, until recently, it was impossible to find any objective resource on au pairs and on the au pair industry. That is one of the main reasons I started AuPairClearinghouse, to educate and help parents to find good, quality childcare for their children.  Hosting an au pair is a substantial investment, absolutely!  To spend money on au pair "how to" guides and other online au pair resources that can aid you in finding the best au pair and the best au pair agency is money well spent.  Your book is one of those resources that parents should invest in before they sign a contract with their agency.
Felix: Thank you.  I agree, the more objective resources out there, the better consumers we will become!
Edina: You give a lot of great tips and advice in your book. For example, I really love your chapter on A Happy Au Pair Makes for A Happy Family and your tips on creating the right au pair room; curfews and holidays, etc.  In this same chapter, you also mention "other agendas" au pairs may bring with them. Can you tell our readers what you mean about other agendas?  How can a host parent screen their au pairs for "other agendas?"
Felix: What I mean by "agenda" is some other reason for enrolling in the au pair program.   Some girls are looking for a husband.  Some are looking for work that will allow them to stay here in the United States. Some are just avoiding going home.  Unfortunately, many au pairs stay in the U.S. after their program is finished – both legally and illegally!  Of course, this isn't the intention of the program, and this fact has always made me uncomfortable when I hear these kinds of stories.  So, to see where they stand on this, I always ask the question…."Where do you see yourself in 5 years?" … Their answers usually help me to know if they have intentions of returning to their home countries (or not). 
Edina:  Nancy, you make excellent points here – parents do have to be aware of these hidden agendas that can result in rematches and loss of time and money!  I like your "where do you see yourself in 5 years?" tip!  I think this is an excellent screening question every parent should use during that first phone interview.  It opens up the discussion of what kind of person the au pair is and what her life goals are.  The answers can be very revealing and helpful to the host parent who is considering a match with that au pair!
Nancy, there are screening tests online that can flag an au pair for potential problems:  lying, cheating, stealing, gambling, and drinking problems.  Host parents can buy the test and request any prospective au pair take it online and the parents receive a report in a matter of minutes.
We know that au pair agencies use psychometric tests to screen each au pair, however host parents (who pay for these tests as part of their program fees) don't get to see the results nor do they know how well or how poorly, their au pair performed.
As a host mom yourself and author of a guide to hiring and hosting an au pair, what do you think about au pair screening tests that host parents can purchase?  Would you buy one and ask your au pair to take it?  
Felix:  If I had an infant or small child, I would definitely consider this test.  However, with my kids at older ages, I would not.  I believe that part of the fee I am paying to the agency is their screening process – which by in large – I trust.  I also think that host parents should realize that moving to the U.S to become an au pair is a life-changing event. It's hard to predict how anyone will adjust to such a move.   
Edina:  Nancy, I agree, I think that the test can be very useful for parents of very young children who are unable to report problems or abuse they may be experiencing at the hands of their childcare givers.  Agencies do require all prospective au pairs to undergo a psychometric evaluation. My main concern is who is reading these tests and making decisions based on the results. 
Most often, the agent who is recruiting the au pairs are the test readers and I am not sure they are qualified to make decisions about inclusion based on whether or not they think the au pair has passed the test within a margin of error that is appropriate and reasonable.
So, for me, this is one of the main reasons I am excited about the prospect of host parents having control over this part of the screening.  Only time will tell if au pair psychometric screening tests prove to be valid here in the U.S. au pair market.  Thank you for your opinion on this!
Today, agencies are recruiting au pairs from over 60 countries worldwide!  Would you talk about au pairs and their different nationalities? 
I know that there are stereotypes (ex., "Germans are good drivers" or "Thais have weak English skills") but, in your experience, do you notice that one country stands out as the premier nationality for the typical, busy American family?   
Felix:  Yes, it is amazing how many different cultures parents can choose from!  Edina, I really do not think that there is a premier nationality.  It depends on the host family and your needs.  For us – with slightly older kids – we needed a good driver who was outgoing and independent.  Our best au pairs were from Sweden, Germany and Japan.  Regardless of nationality, good English skills from Day One is vitally important for the typical, busy American family – particularly if the children being watched are older.
Edina: I agree…good, sound English skills are a vital component to any good match.  Parents seem to want more and more information about au pairs and hosting a young woman from abroad to care for their children.  Au pairs introduce the entire family to a new culture, a new language, new and different customs, etc., that I find very valuable when raising children in today's global world. The au pair cultural exchange is an exciting and enriching program and we can easily research different cultures and peoples via the Internet.
As an author of an au pair guide and seasoned host mom, what blogs, Internet resources or books would you recommend to our readers? 
Felix:  I would recommend my book, Oh My, Au Pair!  As far as I know, it is the only impartial how-to written guide for host parenting out there.
Like my book, .AuPairClearinghouse is a great resource for impartial, unbiased advice and I would send prospective host families there first. 
The agency websites also have great information on them, but you must realize that they are selling a product at the same time they are sharing information with you.
Edina: Thank you Nancy for the kind words about our website! 
I agree with you that it is important to remind parents that the au pair agency websites do have valuable resources and information, but they are also using these resources to market their companies. 
Oh My, Au Pair is essential reading for any new host parent!  We are so happy to be able to tell our many readers about your new au pair guide so parents can have a real taste of what it's like to host an au pair! 
As an expert on hosting au pairs, do you see any trends in the au pair industry that you would like to comment on? 
Felix:  The biggest trend I have seen since starting as a host parent 13 years ago, is that the business of the agencies has become much more professional and well, "business - like."  The agencies are using the latest technologies to inform host families and make the matching process easier. Compared to when I first started as a host mom, the agencies are using technology to keep families and au pairs connected.  I think this is a good thing.
Edina:  I notice a real spike in parents' interest in the au pair program, have you noticed that too?
Felix:  Yes, I also see an increase in interest in the au pair program and I hope that the au pair program continues to grow….. I think it's the best childcare solution available. 
Regardless of how great technology gets, hiring an au pair will always be a leap of faith. You are going to hire someone to care for your children, live in your house and join your family, without meeting her or him in person.
Being well prepared to make this match – through careful research and reflection -- will give you the confidence that you are choosing an au pair well suited for your family. 
Edina: Nancy, great words of wisdom from a seasoned host mom and accomplished first author!  I know host parents will enjoy the book as much as I did!
Can you tell our readers where they can buy your book? 
Felix: Parents find it at Amazon:  http://www.amazon.com/Oh-My-Au-Pair-Complete/dp/1608442500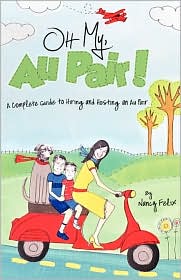 Edina: Nancy, thank you so much for taking the time to talk with us and to tell our readers all about your new guide to hosting an au pair!
Good luck with the book and with all of your future au pairs!